Not long ago I was talking with Gib Olander from Localeze, our main data supplier.  The topic was local data, and how weird it can be: Some things look like they must be mistakes—except they're not.
Gib's example was a place that sells custom rims and also cellphone service.  If you saw the business listed under both categories, you might figure one was wrong. But Gib can show you a photo of Cell 'n' Wheels that proves otherwise.
I laughed. The example wasn't so terribly outrageous, and Localeze certainly has an interest in promoting this idea. 

  Yet at the same time, I happened to know of a much better illustration.
I get my hair cut at a barber's shop that also sells seafood.   Oysters, specifically.  During the holiday season it does a roaring trade in hams, too; they're piled into a shopping cart by the door.  No one seems to mind buying dinner from a place that can get ankle-deep in human hair.
Whatever about rims and phones, I'd definitely suspect an error if my search for [oysters] near [Leesburg, VA] returned Plaza & Tuffy's Barber Shop as the top result.  But it's the only place in Leesburg that advertises oysters on a sign: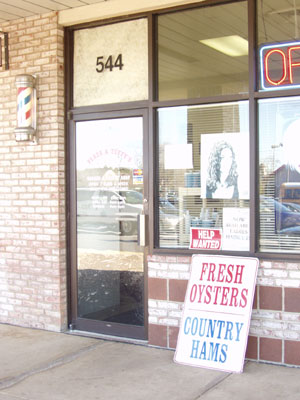 I shot this photo right before getting a haircut.  When I went inside, my barber Bobby asked why I had been taking pictures.  I told him I had a friend in Chicago who didn't believe that a barber shop also sold seafood.
"We're still country here," he replied. "You tell him that."
It got me to thinking: In reviewing YellowBot last year, I included a screengrab of something I portrayed as an error—YellowBot's tags said that a hair-removal place here in Leesburg also sells bail bonds.
Perhaps I was too hasty in calling it a mistake?